ICT60220 Advanced Diploma of Information Technology
CRICOS CODE: 105656J
Course Description:
This qualification reflects the role of individuals in a variety of information and communications technology (ICT) roles who have significant experience in specialist technical skills, or managerial business and people management skills. Individuals in these roles carry out complex tasks in a specialist field, working independently, leading a team or a strategic direction of a business. They apply their skills across a wide range of industries and business functions, or as a business owner (sole trader/contractor). The skills required for these roles may include, but are not restricted to:
Advanced Data Management Information: creating, designing and monitoring complex systems that store data, and optimising organisational knowledge management
Cyber Security: protecting sensitive data and information through security architecture, and developing disaster recovery and contingency plans
Full Stack Web Development: building advanced user interfaces, developing representational state transfer application program interfaces (REST APIs) and designing user experience solutions
Further Programming: applying advanced ICT languages to maintain security and manage data
IT Strategy and Organisational Development: managing and communicating strategic ICT business solutions
Systems Development and Analysis: modelling and testing data objects, data processes and preferred ICT system solutions
Telecommunications Network Engineering: managing logistics, organisational specifications, regulations and legislative requirements across network projects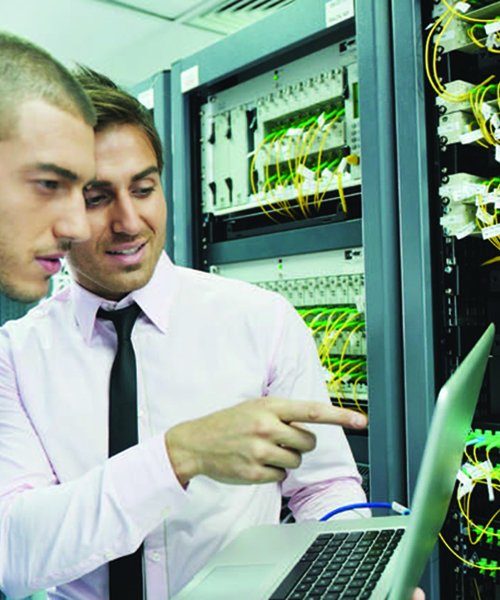 Course Entry Requirements:
Have demonstrated an IELTS level at score of least 5.5 or equivalent (test results must be no more than 2 years old) or demonstration of successful completion of at least General English at Upper Intermediate or English for Academic Purposes Upper Intermediate level or equivalent results in Milcom Institute placement test
Have a suitable level of language, literacy and numeracy to complete course requirements with or without additional support that Milcom Institute is able to provide
Have successfully completed Australian year 12 or equivalent.
Are at least at age of 18 on the date of course commencement
Please Note: All the students commencing this course are required to complete LLN test on the orientation day to assist Milcom Institute to identify student's needs for additional support during their study with Milcom Institute
Covid-19 Variation to Delivery and Assessment Strategy
Additional entry requirements:
Student must have access to working PC or laptop with a configuration suitable to meet study requirements. Please seek your trainer/assessor assistance in this regard.
Student must have access to working internet
Student must be able to attend scheduled theory classes and classes to be conducted in simulated environment (if schedule during Covid-19 is varied from original schedule)
Student must have sound digital literacy
Where practicals are required as a part of unit of competency requirement, students must complete their practicals in Milcom Institute facilities or as advised otherwise. Where students are required to come to campus and use the available facilities and resources, they will be advised of the date and time including for the delivery and assessment. It must be noted that Milcom Institute will follow covid safe plan and would not be allowing more than 4 learners (or one group, whichever is less) in the class ensuring 4 sqm social distancing is maintained
During COVID-19 (coronavirus) outbreak, Milcom Institute will use a flexible delivery mode for training and assessment, providing training package requirements allow for this. We would ensure that all regulatory requirements are met with as little disruptions possible. As circumstances change and restrictions are eased, these temporary arrangements will be reviewed, and enrolled students will be notified accordingly. Milcom Institute aims to review any changes in circumstances before commencement of each term so that it has least possible impact on students and course delivery. Milcom Institute will seek student's consent of online delivery and assessment (where possible) prior to their enrolment during this Covid-19 outbreak. We are fully committed to remain transparent on the mode of delivery, resources available to students, methods of assessment and how assessment in simulated environment will be managed. We ensure that:
Students are treated fairly and reasonably
Any adjustments to courses are transparent and communicated clearly to students
All adjustments to course delivery, the process for informing and seeking students' consent, and information relevant to individual students is documented and retained
Orientation
New student Orientation will be done via phone, e-mail, Zoom and Moodle. New students will receive an e-mail and call from the Admissions department prior to their date of commencement with all necessary further information and instructions.
If you have any questions regarding this process, please contact +61 3 9008 7245 or +61 7 4904 5313 or [email protected]. Please email or call the Student administration should you require any additional support.
Classes
During Covid-19, Milcom Institute will transition to an online learning environment, this means there will be no face to classes running, unless required to be in simulated environment specifically in class; or covid-19 restrictions are eased and/or state government allow to return to full onsite learning. If any student require assistance with their online learning environment, student will notify their trainer and assessor where trainer/assessor will provide them with further guidance.
Current Situation
In line with latest government advice, access to Milcom Institute Campus is still restricted to those activity only which cannot be done at home. So, for most student, they should continue to study remotely, unless it is required to visit the campus.
Guided by the government advice and our own assessment, we will begin permitting more essential learning, support sessions, delivery and assessment and other related activities back on campus in the coming weeks. Students will be advised from time to time. To ensure we are carefully managing the number of students, staff and trainers/assessors on campus, Milcom Institute will initially provide specific approval (on a case-by-case basis) for anyone to attend campus. For further details, please refer to:
https://www.dese.gov.au/covid-19/coronavirus-covid-19-information-international-students
https://www.studyinaustralia.gov.au/english/student-support
Online options
The online learning environment will be supported by a range of resources that will vary between units but may consist of learning summaries, video recordings or YouTube videos, and extra documents to aid student's learning.  All training staff will be available online at scheduled class times to guide and support the student through their studies. The online learning environment will be available through using Zoom and Moodle.
Assessment
Assessment tasks will vary for each unit of competency, but some of these may be moved online. Some assessment tasks may also be delayed or deferred to a later date pending the situation with COVID-19. The trainers are required to communicate with students for unit specific information. The best way to do this is through Zoom, Moodle and/or through email.
Support
All staff at Milcom Institute will continue to work and will continue to provide the students with the support any individual may need. The student will be remained connected with each trainer/assessor through regular class participation to assist them continuing their studies. Milcom Institute will also provide online academic and language support and student support staff are always here to help.
OFFSHORE: Current and New Students
Please note that the Australian Government has closed entry into Australia. This excludes permanent resident, Australian citizens and their immediate family members.
In summary:
Some students currently offshore will be allowed to commence their studies online
The admissions process will be the same
Students will need to have meet all language, literacy and numeracy requirements
Pathways
Once students have successfully completed ICT60220 Advanced Diploma of Information Technology (Telecommunications Network Engineering), they can apply for various roles across such as Optical Network Manager, Senior Specialist Technician (Telecommunications), Telecommunications Technical Officer, Senior Technical Officer (Telecommunications Engineering), Telecommunications Engineer, IP Convergence Integrator, Senior Technical Officer (Electronic Technology).
The further study pathways available to students who undertake this qualification include:
Degree programs in related fields such as Information technology, Networking, Telecommunications, etc. subject to meeting entry requirements of the intended qualification
Course Structure:
A total of 16 Units (6 Core and 10 electives) must be completed and deemed competent to achieve the qualification ICT60220 Advanced Diploma of Information Technology (Telecommunications Network Engineering). Participants who achieve competency in any unit/s will receive a Statement of Attainment (provided USI is verified) for that unit/s without completing all 16 units in the qualification. Students completing all the required units of competency will attain full qualification.
| Code | Title | Core/ Elective |
| --- | --- | --- |
| BSBCRT611 | Apply critical thinking for complex problem solving | Core |
| BSBTWK502 | Manage team effectiveness | Core |
| BSBXCS402 | Promote workplace cyber security awareness and best practices | Core |
| ICTICT608 | Interact with clients on a business level | Core |
| ICTICT618 | Manage IP, ethics and privacy in ICT environments | Core |
| ICTSAD609 | Plan and monitor business analysis activities in an ICT environment | Core |
| ICTNPL413 | Evaluate networking regulations and legislation for the telecommunications industry | Elective |
| ICTNWK612 | Plan and manage troubleshooting advanced integrated IP networks | Elective |
| ICTPMG613 | Manage ICT project planning | Elective |
| ICTTEN615 | Manage network traffic | Elective |
| ICTTEN622 | Produce ICT network architecture designs | Elective |
| ICTPMG617 | Plan and direct complex ICT projects | Elective |
| BSBLDR523 | Lead and manage effective workplace relationships | Elective |
| ICTNWK546 | Manage network security | Elective |
| ICTNWK560 | Determine best-fit topologies for wide area networks | Elective |
| ICTNWK561 | Design enterprise wireless local area networks | Elective |
Assessment Methodology:
Assessment methods used for this qualification are varied and will provide a range of ways for individuals to demonstrate that they have met the required outcomes. Assessment methods may include:
Written questions
Projects
Presentations
Report writing
Role plays/observations
At the beginning of each unit, your trainer and assessor will outline the assessment tasks that must be completed.
Facilities and Resources
Your classes will be conducted in modern classrooms and you will be able to access Wi-Fi. There are also areas for you to relax, as well as conduct additional study. You will be provided with a Student Guide relevant to each unit in your course. Recommended textbooks are also available onsite for you to use and borrow if you wish. You may also purchase these textbooks if you require.
Privacy Policy
Information collected about an individual learner or intended applicant in Written Agreement and Acceptance of Offer and during the student enrolment, can be provided by Milcom Institute, the Commonwealth including the TPS or state or territory agencies, in certain circumstances, to the Australian Government and designated authorities; in accordance with the Privacy Act 1988. In other instances, information collected on this form or during your enrolment can be disclosed without your consent where authorised or required by law. Under the Data Provision Requirements 2012, Milcom Institute is required to collect personal information about any individual learner or intended applicant and to disclose that personal information to the National Centre for Vocational Education Research Ltd (NCVER). Learner's personal information (including the personal information contained in Written Agreement and Acceptance of Offer and during the course of their study), may be used or disclosed by Milcom Institute for statistical, administrative, regulatory and research purposes. Milcom Institute may disclose your personal information for these purposes to:
Commonwealth and State or Territory government departments and authorised agencies and
NCVER
Personal information that has been disclosed to NCVER may be used or disclosed by NCVER for the following purposes:
Populating authenticated VET transcripts
Facilitating statistics and research relating to education, including surveys and data linkage
Pre-populating RTO student enrolment form
Understanding how the VET market operates, for policy, workforce planning and consumer information and
Administering VET, including program administration, regulation, monitoring and evaluation
For all further details, please refer to https://www.ncver.edu.au/privacy.
Course Duration
The duration for this program is 104 weeks, including:
88 study weeks
16 weeks of holidays
Course Fee
For more details regarding fees, Please click here.
Mode of Delivery
Face to face (Classroom based)
Flexible learning (Covid-19)
Delivery Locations
Ground Floor, 355 Spencer Street, West Melbourne VIC 3003
Construction Training Centre, Ian Barclay Building (Room 1.9), 460 – 492 Beaudesert Road, Salisbury 4107-QLD
Further Information
For all further details, please refer to International Student Handbook available on www.milcom.edu.au for all related policies and procedures and other important information related to international students including Covid-19, living cost, life and study in Australia, etc.
Please contact the Student Administration Manager at +61 3 9008 7245 or +61 7 4904 5313 or [email protected] for further information.