ICT41215 Certificate IV in Telecommunications Engineering Technology
CRICOS CODE: 096063B
Course Description:
This qualification reflects the role of an advanced technician (technical officer), team leader or supervisor with a wide range of telecommunications skills who can install and maintain:
Enterprise networks in emerging and converging technologies
Optical and wireless equipment for high speed broadband network infrastructure
Internet protocol (IP) based network telecommunications equipment
IP based networks in home networks and small and medium enterprises
Telecommunications, data cabling and cabling products in line with the specifications of the access network owner
Telecommunications access network cabling and infrastructure, systems and customer equipment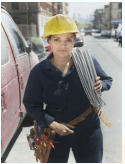 Study Pathway and Career Opportunities
Pathways into the qualification:
Preferred pathways for candidates considering this qualification include: ICT30515 Certificate III in Telecommunications Engineering
After successful completion of:
Students may progress ICT51015 Diploma of Telecommunications Engineering. Learners may complete individual units of competency and receive a statement of attainments for that unit.
COURSE STRUCTURE:
This qualification comprises of 16 units = 8 Core and 8 Electives
| Unit | Unit Code and Title |
| --- | --- |
| CORE | ICTICT408 Create technical documentation |
| CORE | ICTPMG403 Manage the delivery of network infrastructure |
| CORE | ICTTEN201 Use electrical skills in telecommunications work |
| CORE | ICTTEN202 Use hand and power tools |
| CORE | ICTTEN410 Locate, diagnose and rectify faults |
| CORE | ICTTEN414 Repair telecommunication system faults |
| CORE | ICTWHS204 Follow work health and safety and environmental policy and procedures |
| CORE | ICTWOR201 Work effectively in telecommunications technology |
| ELECTIVE | BSBSMB407 Manage a small team |
| ELECTIVE | ICTCBL403 Supervise cabling project |
| ELECTIVE | ICTTEN402 Estimate and quote for customer telecommunications equipment installation |
| ELECTIVE | ICTCBL401 Prepare design drawings and specification for a cable installation |
| ELECTIVE | ICTCBL404 Test cable bearers |
| ELECTIVE | ICTTEN401 Identify requirements for customer telecommunications equipment |
| ELECTIVE | ICTSUS403 Install and test power management software |
| ELECTIVE | ICTTEN409 Commission an electronic system |
Possible job titles relevant to this qualification include:
Telecommunications Technical Officer
Radio Communication Technician
Home Network Installation Technician
Telecommunications Technician
Course Duration
Total Duration: 52 weeks (40 Weeks of full-time study (20 hours/week) and 12 weeks of holidays including term breaks)
Mode of Delivery: Classroom based face-to-face
Fees
Total Fees Charged: AUD 14,450.00 (Tuition Fee = AUD 14,000 + Application fee = AUD 250.00 + Material Fee = AUD 200.00) (Application fee is non-refundable)
Course delivery
A delivery mode implemented includes face to face classroom based training and training in simulated work environment. Training will take place at the Milcom Institute facility at Construction Training Centre, Ian Barclay Building (Room 1.9) 460 – 492 Beaudesert Road, Salisbury QLD 4107. The following techniques are implemented during face to face delivery depending on the subject matter: trainer presentations and demonstrations, power point presentations, individual tasks, case studies, research, role plays, practical demonstrations and group work.
Recognition of Prior Learning (RPL) and Credit Transfer (CT)
Milcom Institute will offer Recognition of Prior Learning (RPL) and Credit Transfer (CT) to all eligible students through the enrolment process and will provide an application kit for RPL applicants. Milcom Institute has documented policies and procedures for these processes and students are provided details of how to apply for RPL or Credit Transfer through the enrolment process.
Entry Requirements
Academic Entry Requirements
Completion of Year 12 or high school or equivalent in applicant's home country .
International Students must be over 18 years of age before commencing studies and student must not be colour blind.
English Language Requirements
International Students must have a good command of written and spoken English. If English is not their first language or was not the medium of instruction and assessment in their secondary or tertiary studies, students must demonstrate their proficiency in English Language. The minimum English Language requirement is:
English language proficiency – IELTS score 5.5 (no band less than 5.0);
TOEFL score 46 (no speaking below 15 & no reading/listening below 6);
PTE academic score 42 (no score below 35);
Cambridge Certificate in Advanced English 47;
OR Take Language, Literacy and Numeracy Test at MILCOM (applicable to students from countries with Assessment Level 1 and 2 only)
Campus Location
Construction Training Centre, Ian Barclay Building (Room 1.9) 460 – 492 Beaudesert Road, Salisbury QLD 4107
Additional Information
For further information, access to the Student handbook and to enrol please go to www.milcom.edu.au/international/ and apply directly from the website. Alternatively, you may contact the college on +61 7 4904 5313 or international@milcom.edu.au